27 Oct

When it comes to exotic, deep and uncommon flavors and aromas, high altitude is for what you should look

Costa Rica is know it rich volcanic soils and nature preservation, which perfect for growing healthy crops, but it's high mountains, and volcanoes, that create those so especial flavors and aromas that we enjoy so much.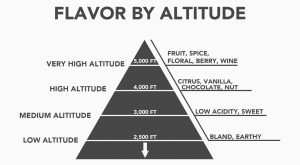 As coffee is grown higher, flavors and aromas are liberated. Commercial coffee in grown below 2500 ft, so it's bland, earthy and bitter, and that if it's 100% Arabica beans and not blended with much lower quality Robusta beans. As we go up the mountain, sweetness starts to appear, but still it's an unimpressive and distinctively lack the clear and citric acidity.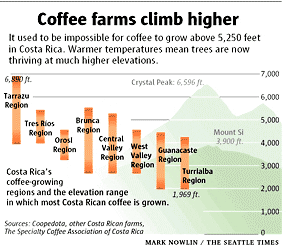 Above 4000 ft is what you need to look for, at this point is when attractive flavors like chocolate and vanilla start to manifest; the really exotic flavors and aromas start to appear above 5000 feet. Very little coffee is grown at this altitude and above, and it can be a matter of personal taste if you want to enjoy such a high altitude coffee, given that coffee above 4000 is very good.
In Costa Rica, 5000 ft and above coffee growing areas can mostly be found in the Tarrazu region, which if world famous for its top quality coffees; yet the Central valley, which has 5000 ft areas, but not as much as Tarrazu, produces great coffees, in fact, last year's Cup of Excellence came from the Naranjo region in the Central Valley