Dota Gift Box Micro-lot Coffee • 20oz (2 x 10oz)

You receive 2 coffees, a Dota Reserva Especial and a Dota Tarrazu, 2 of the best Dota coffees, very nicely packed inside a deluxe glossy black box, includes the history and social impact of the cooperative, and a description of these award winning coffees.
Pineapple, Orange & Milk Chocolate
Dota's Reserva Especial is a micro-lote/Estate medium roast coffee. The best of the harvest gets selected for the Special Reserve. Pineapple, raspberry and  lemon aroma, followed by orange flavor and subtle taste of milk chocolate with a honey finish. clear sharp acidity characteristic of the Dota-Tarrazu region and silky aftertaste.
Kiwi, Apricot & Dark Chocolate
Dota's Tarrazu dark roast is special collection of coffees grown in the far Northwest side of the cooperative, on the Easter slope of the San Marcos mountains. Tangerine and lime aroma, touch of papaya and lime flavor, soft silky texture, clear sharp acidity characteristic of the Tarrazu region, and a dark chocolate aftertaste.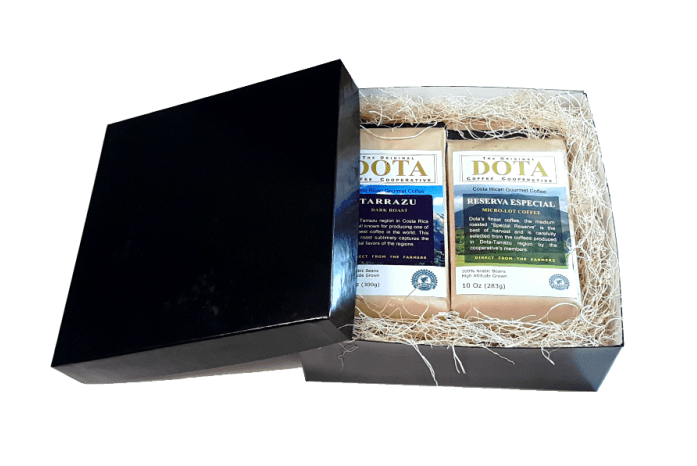 Coffee Information
Country: Costa Rica
Region: Tarrazu
Producer: CoopeDota
Altitude: 1200-1600 masl
Variety: Catuai, Caturra
Processing: Washed
CoopeDota
Is located in Santa Maria de Dota, in the Dota-Tarrazu region, which is  famous for been one of the best places in the world's to grown coffee. Costa Rica is known for its large biodiversity, micro-climates and rich volcanic soils, a combination that creates the perfect environment to grow coffee. Lonely Planet selected the Dota Valley in Costa Rica as one of the 10 best spots in the world to experience a great cup coffee.
Grown at an average height of 6000 feet, Coffees from the Dota-Tarrazu region are very smooth with wonderful aromas of tropical fruits that are accentuated by chocolate sweetness.
The cooperative take pride in producing a top quality high altitude 100% Arabic coffee using traditional and sustainable methods that go beyond a certification or seal. Direct from the farmer to the consumer, the almost 800 farming families grow, harvest, roast, package and ship their coffee. CoopeDota has always been an example of coexisting with environment; in 2011 introduced the world's first Carbon-Neutral certified coffee. Our coffee obtained the British Institute of Standards certification PAS2060, after demonstrating the offset of carbon emission throughout the life-cycle of the coffee. CoopeDota is well known institution in the area, and influence almost all costa rican in the region.
Dota Gift Box Micro-lot • Coopedota Costa Rican Specialty Coffee